I found the recipe for this on sugarfish blog by Ruth, it's a deliciously sweet and tangy lemon butter, or lemon curd as it can also be known. I remember my mum making something like this when I was a kid but it never took my fancy back then.

Now however, I can't help dipping a spoon in it whenever I go past the fridge....

Here's the recipe, as per Ruth, but make sure you drop by her blog and check out the other foodstuff offerings she has there. Very family/kid friendly recipes, just what I need.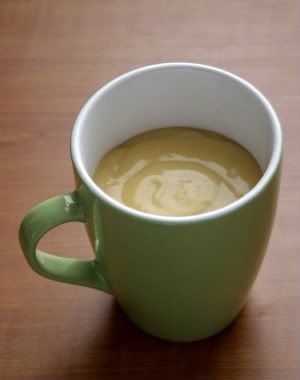 1 cup sugar
3/4 cup lemon juice
4 eggs
125 grams butter
Place the sugar, butter and lemon juice in a large bowl.

Microwave on high for three minutes, stirring halfway.

Beat the eggs well, then beat into the mixture thoroughly.

Microwave on high for four minutes or until thickened, checking and stirring every 30 - 40 seconds.

Beat well.

Cool in the fridge.
Oh, and make sure you have a helper, too!