After my recent cupcake decorating workshop, I've decided I need more regular decorating practice. I tried out a new recipe yesterday, which turned out to be a flop.....all my cupcakes had flat tops......and then found my piping set in the very back of the pantry. Once I'd washed the cobwebs off it, I filled it with buttercream icing and got to work , trying out some of the techniques I'd learned at the workshop.

I figured out why you need cupcakes with a lovely rounded top, that's so you can put a beautiful swirl of icing on it that comes up to a point. It doesn't have quite the same effect if you have a flat top to begin with.

Anyway, the only photo I have of my efforts is of these two little ones that I used up the remainder of the icing on. Perfect kid size.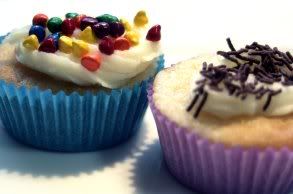 So not a true record of my endeavors, as I sent all the larger ones to hubby's work, with strict instructions for him to make it known that these are PROTOTYPES only, PRACTICE cupcakes, not a true showcase of what I can do. I can't help but be slightly vain!

Decided I need a different piping set, the one I have appears as if it's better suiting to decorating cookies, making fine lines etc. Or is it a case of a workman and his tools............?