This is my latest creation, white chocolate and raspberry, ooh yum yum!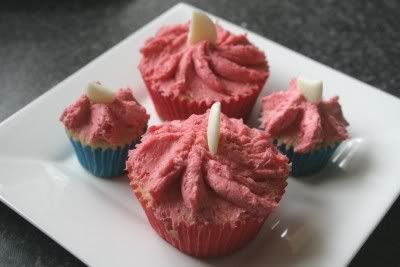 Easy to make and very delish too....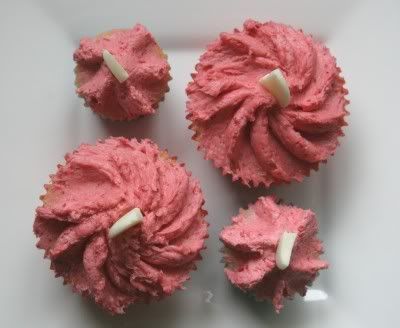 Mmm mmm!


This recipe is a keeper, it is veeery easy to make, it certainly makes

plenty

, they taste fantastic and, they freeze well too. What more could you ask for?

The following recipe is from the

Crabapple Cupcake Bakery book

.



White chocolate mud cupcakes

4 cups plain flour
1 1/2 teaspoons baking powder
500gm butter, chopped
2 cups milk
4 cups caster sugar
300gm white chocolate, chopped
4 eggs, whisked
2 teaspoons vanilla extract


Preheat over to 155 c and place cupcake liners into molds. (Recipe said 24 cupcakes, I got more like 48, so I must be using smaller liners)
Sift flour and baking powder together in a large bowl, make a well in the center and set aside.
Put milk, butter, caster sugar and white chocolate in a metal bowl and place over large saucepan of simmering water. Stir continuously using a wooden flat bottomed spoon, until choc has melted and sugar has dissolved. Remove from heat and cool to room temperature.
Use a rubber spatula to fold the eggs and vanilla into the cooled chocolate mixture. Pour this mixture into the well in the flour and fold together until well combined.
Fill cupcake liners about 3/4 full and bake for 25-30 minutes or until skewer inserted comes out clean.
Now, I was a bit stumped as to what to ice these with, the book makes them in dariole molds and pours ganache over them, then ices the tops with a very simple mixture to drip down the sides.

I wanted something simpler and more cupcakey so to Master Chef Google I turned.....
and found raspberry frosting and raspberry buttercream frosting.

Right, raspberry it is.
I went with the first frosting recipe, mainly because I didn't have cream, and it worked a treat.


Although I didn't strain the berries as per the recipe (forgot) so my icing is a lot deeper in colour and has bits in it.
Which I like, except for the fact that the colour and texture makes me think of sausage meat, which is sooooo not something I want smeared on a cupcake. Also it didn't pipe well, although I am still using my too small piping nozzles, so bigger ones may fix that problem.

The flavour is wonderful, definitely reminiscent of raspberries, but to eliminate the mental image of sausage meat on cupcake, next time I will use less berries and straaaiiiiiin them well.



Here are my efforts to apply the icing....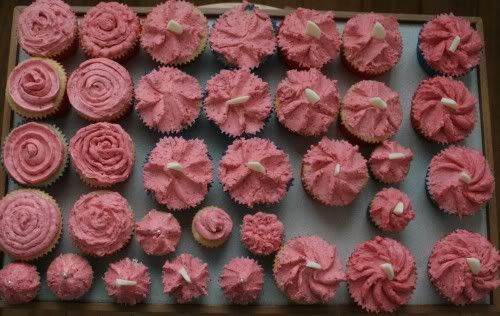 Yep, I still need practise.

But YUM!