I FINALLY finished Superman, he's turned out okay but not really anything spectacular. I think his face is too big for his super heroic body, and despite H's request for Superman to have hair like his ie, NOT black, I think he could use a bit of a makeover.
Some hair dye would definitely give him more impact, and the googly eyes are not doing it for me, I think I will take them off and embroider him some replacements.

And his cape needs a bit more more oomph, a bit of flowy action wouldn't go amiss, after all it's meant to gracefully stream after him as he soars through the skies.

But the recipient of Superman was gratifyingly delighted and I'm thinking about making a series of the little guys, the ones that go IN the pockets, as these little fellas seem to be seeing a lot of action.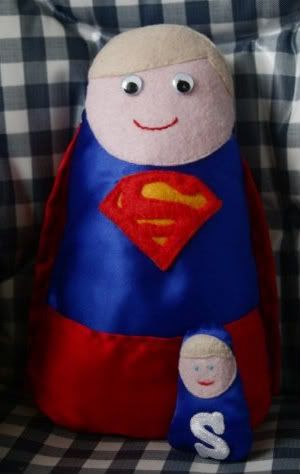 Hmm, a bit more thinking required here, before I get my master pattern all worked out......