I received this from my youngest sister a couple of days ago, it's a journal cover she made
Just gorgeous, the choice of fabrics, the textures, the different coloured thread, the decorative stitching. Obviously handmade and all the better for it. Apparently her husband thinks it's fabulous.........if only because she's using up some of her enormous stash of scraps.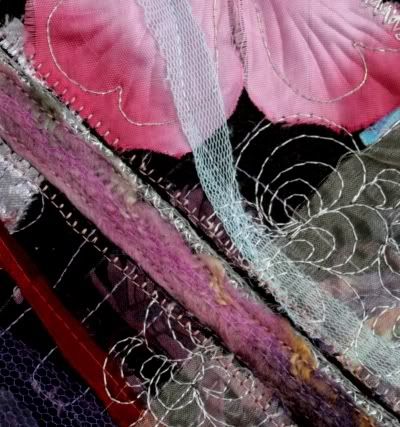 My sis....this sis anyway, I have 2 others.......is a quilter and I am sooo not, hence I am in awe of any kind of quilty, appliqued type work. Ooooh, that reminds me, my eldest sister who is a quilter also, sent me back home with a beautiful piece after I visited her in Tom Price, WA. Must put up a picture of that soon, it's definitely drool worthy.
Sisters, they keep me sane in my sometimes insane little world of two small boys, sleepless nights, constant questions, endless laundry, and house hunting...groan...Dragging two under 4's to open-for-inspections all weekend is to be avoided whenever possible!