My latest cupcake effort is for H's daycare class, being that it is his fourth birthday this week.
I am sure his teachers will NOT love me, because the cupcakes themselves are chocolate and coffee (can't taste the coffee though) and the decorations are marshmallows, white chocolate, milk chocolate and gummy lollies.
All stuck on with a butter cream icing. How else would I make a rocky road cupcake? My initial idea was to also pipe melted chocolate over the top.....but my choc wasn't smooth enough and wouldn't come out of the piping bag properly, so I ditched that idea this time round. (It was late, I was tired, first time with the piping bag. That's my excuse, lame I know.)


Here they are...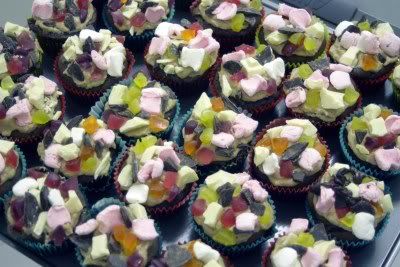 Hubby took a few to work, where they were veeeerrry well received.
I however didn't eat one, as my sense of taste is still on holiday thanks to my stuffed up nose and head cold, sigh...