Like many Australian's I am sure, I am the proud owner of a somewhat vintage copy of the Australian Women's Weekly Children's Birthday Cake Book. Most of my childhood birthday cakes were made from this, so it brings back many fond memories. I have of course, broken out this book as my own children's birthdays roll around, but I have not had much success with the butter cake recipe. I have managed to find a decent substitute though, it works very well, is extremely easy to make and delicious to boot.


It came out of one of my

Donna Hay magazines

that I was given a subscription to a while back. And while I love the look of these mags, they have not been a whole lot of use to me except for this particular recipe.

So, here it is:


Simple Lemon Cake
220 grams butter, melted
1 1/2 cups caster sugar
2 eggs
1 cup sour cream
1/4 cup lemon juice
2 tablespoons grated lemon rind
2 cups plain flour
2 teaspoons baking powder
Heat oven to 180c.
Place melted butter, eggs, sour cream, caster sugar and lemon juice and rind in the bowl of an electric mixer and mix until well combined.
Sift flour and baking powder over bowl and beat 3-4 minutes or until smooth.
Spoon mix into shallow 20cm x 30cm tine (I use a 20cm x 20cm), that has been lined with baking paper.
Bake for 35 minutes or until golden and cooked through.
Cool in the tin.
And here is the finished result, from my youngest's recent 1 year birthday.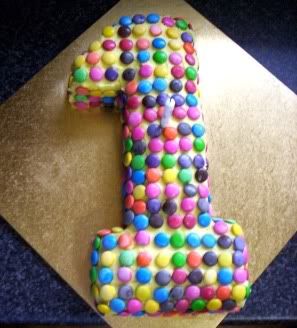 Haha, no, it doesn't come out of the tin quite like that, it does require a certain amount of butchering first.

It's not quite perfect, I don't know how my mum ever got hers to look as good as they did, and unfortunately she's not around now to ask.

Fortunately for me, this year my soon to be 4 year old has requested a runway cake, with a helipad on one side. Ok, even

I

can do that. Maybe the poor kid doesn't have much faith in my cake making abilities....he probably remembers the accidentally green, demented looking teddy bear cake I made when he was two. Poor kid, scarred for life.