Well, we actually put an offer on a house this week. The first house we have looked at that we BOTH agree on, with very few reservations. This is a biggy, because we have been looking for about 8 months now and want to move before the end of the year and we are each looking for different things. For example, I want /need (ok, it's really only a want) a decent size kitchen. I have one now and do not want to go smaller. Hubby wants a double garage. Get the picture?
Well this house had both of those and all the other things we want, and it borders an agricultural zone, aka farm. So no houses when I look out the windows, woohoo! Despite the fact the floors had been replaced 2 years back because of termites, we put in an offer subject to pests, building etc.
Having been inspired by my sis's gardening efforts

,

I had planned where to put a chicken coop, my raised veggie beds that hubby has promised to build, H's 'secret' garden as he calls it....he wants flowers and cactus in his and some espaliered fruit trees, like this...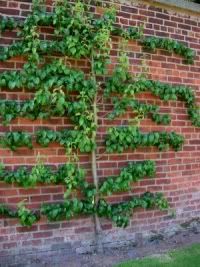 Anyway, we

didn't

get the house, someone wanted it more than we did and it went for $40K above the top advertised price. Boohoo!

Reminder to self: don't fall in love with a place unless I own it!