Oh yum, everyone in my family loves and requests these, so I make big ones for hubby and mini sizes for the kidlets.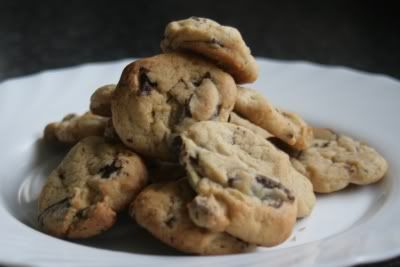 Pretty easy to whip up, especially if you have a good electric mixer. My mixer is the sort that sits on the bench and does all the work itself: have to say, I love it. It's a Sunbeam Mixmaster, given as a gift: have a look at these reviews for it though, seems not everyone is as happy with it as I am.
But I'm sure, if you get a benchtop style electric mixer, you'll never go back.
Especially if you're as lazy as me, hehehe! Just do your homework first. Anyway, I digress, here's the recipe....


Killer Chocolate Chip Cookies

125 grams of softened butter
100 grams (1/2 cup) firmly packed brown sugar
110 grams (1/2 cup) caster sugar
1 egg
2 teaspoons vanilla
270 grams (1 3/4 cup) self-raising flour
190 grams (1 cup) chocolate bits


Pre-heat oven to 180c. Line 2 large trays with baking paper.
Place butter and sugar in large bowl, beat till fluffy and pale.
Add egg and vanilla and beat well.
Add flour and chocolate bits and mix well.
Roll heaped teaspoons full into balls and place on tray 5 cm apart. Press down gently.
Bake 15 minutes until golden at edges. Cool on tray.

My tips:


Make a double quantity of dough, it freezes well.....and tastes great as dough too. Especially after it's thawed out and sitting in fridge waiting to be baked, and you need a sweet fix........mmmmmm.

You can use any variety of chocolate, milk, dark or white.

If you run out of egg, I have discovered that using

pureed fruit gives almost the same result.



If you don't use self-raising flour (I don't), you can use the measurements of one cup of flour to one rounded teaspoon of baking powder. You can also make your own baking powder.



Oh, and try not to eat them all at once!



Update
I now try and make these cookies ever so slightly healthier:
I use 3/4 cup rapadura instead of the 1 cup of sugar.
I sub' wholemeal spelt flour for the regular white flour.
I also leave out a wee bit of the butter and add a little kefir instead and let it sit on the bench overnight, in an effort to get rid of some of the phytic acid (

phytic acid being an anti-nutrient

)