At daycare, the kids have been busy doing a few bits of mother's day artwork.
These came home yesterday and one of them had me in stitches as well as being just a little embarrassing. I remember from being a nanny some of the things kids share, or just innocently discuss, and we all know that kids have no embarrassment.
Well, that said, this is not THAT kind of embarrassment, although I have had those before, but thankfully not committed to paper....at least not to MY knowledge anyway, I'm sure there are some things the daycare teachers just giggle over between themselves...

So, a picture of the family....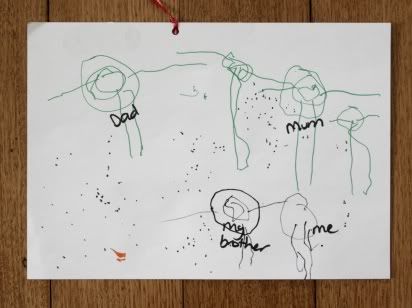 followed by the quote

"

My mum loves t

o eat fish and chips so she doesn't have to cook".

Umm, enough said.