My one year old has some current favourite foods. These are....chalk:


See the yellow chalk dust round his mouth? He walked round for ages just chewing on this lump of chalk, drooling yellow dust all down his front. This was not an isolated incident either, whenever we're out on the driveway drawing, he's out there chewing.
Crayons: hmmm, maybe it's something about the colour yellow??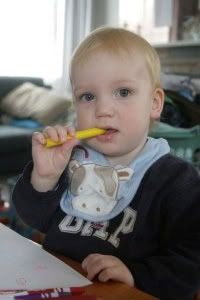 Although he completely ingested a chunk of brown crayon a day ago. I told dh we'd see it in his nappy in a day or so. His reply, "brown crayon, think about it". Er right, unless I do a poop dissection, I won't know if it's out. And I already know more than I want to about poop, see my
how to remove poop from your carpet
post here....

What else? Playdough, paper bags, as well as more normal things like cheese, yoghurt, strawberries. Oh well, I suppose most of the former things are all non-toxic, and the makers of these products obviously make them non-toxic for a very specific reason....

Don't remember my eldest child eating anything he could get his little hands on..