I made some of these yesterday...

Apple custard tea cakes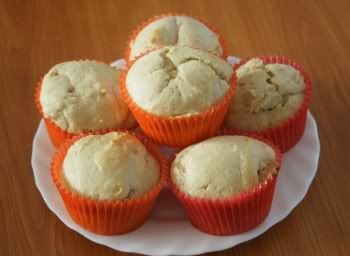 Don't they look great, all round and puffy, just promising to be moist and moreish underneath. And they were, mmmmmmm. Yes,

were

, because there are none left now, hehehe!

I found the recipe on sugarfishblog, posted by Ruth.

I did change a couple of things just to work with what I had around and what I know my family will eat. You'll notice no apple on top? I know kids (and hubby) would more than likely just peel it off. Yes, I am embarrassed to admit that....

I used wholemeal spelt flour, no custard powder (didn't have any) so just increased the flour by that amount, I only had one egg so added an amount of pureed apple approx equivalent to an egg, and used some leftover thick custard I'd made in the thermomix.
And mixed it all in the thermomix.
And I didn't do the butter and cinnamon sugar thing at the end either.

So really, they are probably only

vaguely

similar to Ruth's recipe
but gee they were droolingly good nonetheless.

Have a spare 10 minutes?
Go and whip up a batch, then call me and I'll come over to help you devour them.
See you soon!