I remember with nostalgia back to the days when the mornings belonged to me.
Pre-kids that is.
I would set the alarm for 5.41am, head off to the gym, talk to no one, get home and hubby had gone to work. Have breakfast in front of the pc, a leisurely shower and off to work.
Nice, calm and ordered, just what I like.
Oh how things have changed.
I am now regularly jolted out of sleep prior to 5.41am, which seems obscenely early if you are not arising at that time of your own free will.

Being winter, the sun will not rise for at least another two hours so it feels like the dead of night, and I have a hard time snapping out of sleep mode, unlike my two little bright sparks.

The next two hours are filled with breakfasts (everyone's but mine), clothes, missing clothes (hubby's included - I have 3 kids, not 2), bodily functions, requests for tv (denied), second breakfasts, and more things which escape me unless I'm in the midst of doing them.

My point being it's so very far from my married-with-no-kids mornings that I begin to wonder if I hallucinated those 'old days'.

Then just when I think gee it's quiet, they're playing nicely, I'll just throw together breakfast for

me

...........

I find this in the lounge...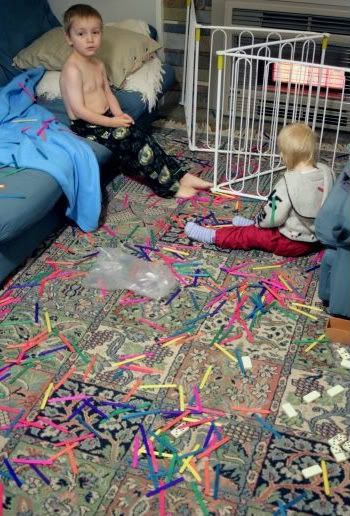 And it gets ominously quiet again when I'm clearing the bomb site that is the kitchen after the troops have been fed...


And I find the older one keeping the younger one prisoner in the shower.
I mean, why
wouldn't
you shut your little brother in the wet shower in his clothes?

Oiks, ya gotta laugh. Right?!