Lets talk toothbrushes for a moment. Have you ever found
yours
in this position?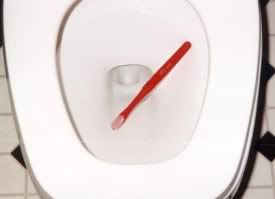 Hehe, no it's not mine, but I had to throw this picture up there. If I actually

found

mine in this position I would commit it to the big chrome bin with flip top lid, never to see the light of day again.

Actually, I might take it directly to the kerbside bin, as Mr 1 yr old has been known to go treasure hunting in aforementioned flip top chrome bin, and said brush may indeed see daylight again, as well as inside of Mr 1's mouth......

Ok, what I actually came here to say was:



A really simple way to sterilize the family's toothbrushes is to put them in the dishwasher

.

Yes, and then

run

the dishwasher, obviously.

Why sterilize them? Well when you think about it, what a perfect way to share coughs, colds and other lurgys round the family, let all the toothbrushes rub heads together in a mug, and spread the joy.

Must remember to do this......