After a southerly blast and some true Melbourne winter weather last night, I dropped the kids at daycare this morning to find they had SNOW in the babies yard.
Although I think it may actually have been hail, as I don't think it was QUITE cold enough in the city to snow. But still...

I'm sitting here right now in my scarf, long woollen coat and boots, having not had the courage to divest myself of my outer wear since coming inside.
The heater is going full blast and it's still cold. That may have something to do with the fact we have very few internal doors, as they are still in the garage awaiting painting.......this is from our DIY reno we started about 5 years ago, so perhaps my current state is somewhat self-inflicted....

This is in the outer, outer suburbs of Melbourne, brrrrr...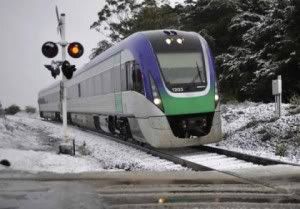 Spare a thought for the homeless..