I've gotta say, I looove smarties, or pebbles to you kiwis. M & Ms too, but now that I know smarties have no artificial colours, I prefer them over the other. Mind you, the colours are not perfect, not quite as vibrant as their rival but I will give up bright glaring colours in the interests of good health. Overlooking the fact that they still have the same amount of fat and sugar in them that they always did, ahem.

Well, I made some cupcakes in honour of my birthday and decorated them with guess what? Right. Only because my piping the buttercream technique still leaves a lot to be desired, read, was a total flop. I will, very soon, get some decent piping nozzles. I will. I WILL. But I haven't yet.

So I started off delicately placing one smartie into the center of what was supposed to be a rosette of buttercream but looked more like a buttercream cow pat, but after a few of those I thought bugger it, tipped the smarties out and upended the iced cupcakes into them. And the end result was it looked like I did exactly that.

See?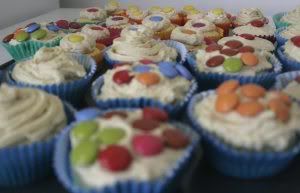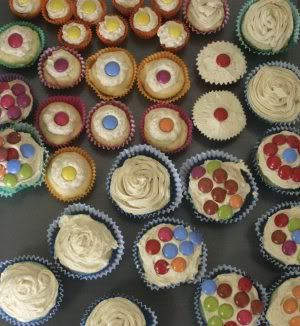 Something else I have discovered along the way for any Thermomixers out there, do not try and make icing sugar from raw sugar in your thermomix and then try and make buttercream icing with that icing sugar. I don't care what my thermomix handbook says, it is NOT as fine as icing sugar, so twice my buttercream has been grainy, before I cottoned onto that fact. Which reminds me, I forgot to buy any REAL icing sugar at the store when I shopped today. Dang.
And the raw sugar imparts it's own flavour and colour tint too.

Note to self: write ICING SUGAR on the shopping list.



The other thing I did with the enormous bag of smarties I bought was to make smartie cookies, which was the actual reason I bought the smarties in the first place. Honest. And I really did need such an enormous bag. Mmm hmm, I did.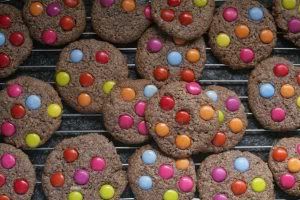 Yum, but not good enough to share the recipe. I'll have to eat them, in the name of research....

Ok, I did share it as it was fairly moreish. It's here,
at Gone Chocco, check out all the chocolate goodness on this Aussie site!