A day or so ago, H asked for a pram to push his toy dog Missy around in.
Not wanting to add to the plastic load in our house, I reminded him how I used to transport his younger brother in a
mei tai.
Now days it's usually (well, occasionally really) a ring sling or a wrap or much more likely just Mr 15 months barreling along under his own steam but back when he was a little tacker the mei tai came in pretty handy.
So after I steered H in the right direction with dog carrying, I then had to produce...


I managed to whip this one up pretty quickly on my machine, with two squares of fabric turned and top stitched, and four lengths of wide ribbon sewn on in the appropriate places.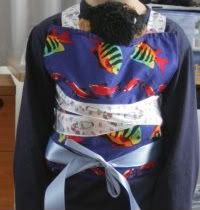 Cute, huh?
His

choice of fabric and ribbon, in case you think my taste is odd, hehe...

And please excuse the detritus in the background, you know all those "my creative space" posts that are doing the blog rounds?
Well, that's mine...you can see one box of fabric on the bottom right there, next to it is another and tucked in the corner under the table is my sewing machine.

On top of the table is my thread collection, sewing basket, a mindstorms lego kit, various computer parts, and whatever other projects hubby and kids are working on.

Oh, and another box of fabric under my desk too.

Yes, we are looking round for a bigger house.