My sister at the Slightly Mad Quilt Lady put up this post with some gorgeous photos of impending weather rolling in across a wide open sky.

Here is my own impending weather shot, though my photo has a few things hers doesn't, other people's roofs, power lines, reminders I am currently ensconced in suburbia....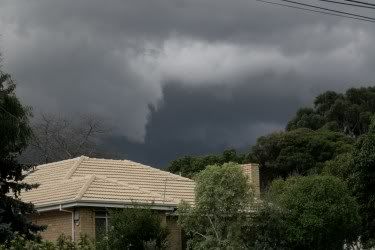 This yielded but a few drops of rain, although the
weather a day or so after
this shot more than made up for it. I'm looking forward to summer storms, crackling lightening and rolling thunder (please excuse me talking in cliches, descriptive words escape me tonight), we didn't seem to get much of that last summer.

Gotta love Melbourne weather!