Well first up let me confess I forgot my camera....... in my defense, the market is 1 1/2 hrs away and we had to be leaving home at 7.30am with both kids and their supplies for the day, lots of cupcakes and ourselves. We being hubby and I.
The whole market-stall-for-a-day thing came about because my hubby is a good friend of the Nut Bloke, who asked hubby and me if we could mind his stall for the day because he would be out of town. The Nut Blokes stall on Saturday was at the Yarragon Market....no link 'cos it's just not very big in market terms!...., so we were happy to help out, because my mother-in-law lives in Yarragon so she was more than happy to have our boys for the day so we could man (and woman, haha) the stall.
And the Nut Bloke was happy for me to put some cupcakes on his stall for the day. However, it was a very quiet day, much quieter than usual according to the CFA ladies across the aisle who are there every market day (and who are doing their best to marry the Nut Bloke off to any eligible female who comes along!). So not a great deal was sold, maybe about half of what I'd made, and at the end of the afternoon I gave some away to other stall holders, who were busy trying to give their unsold goods away too. Now I have some lovely organic sourdough bread from a local farm, a bunch of beautiful fresh silverbeet, and other bits and bobs of fresh-but-looking-slightly-wilted veggies.
But fun was had, it was just hubby and I which happens very, very, very rarely. In between serving customers, which was fun too as many of them are locals and know my hubby from when he was a little tacker, we talked, laughed, joked and didn't get interrupted by small piping voices once! Much as we love our little monsters, it was heavenly :)

So no photos, sorry but you have already seen the varieties I made. Chocolate with chocolate ganache and white chocolate with raspberry.


Now, I did make one more variety, caramel, and they were first out of the oven the night before the market. And this is how they look now...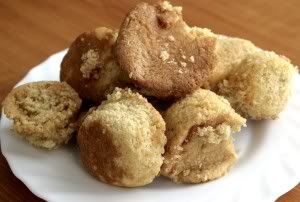 They sank. Yes, actually sank. Not just not-rounded on top, but sunken a bit in the middle. I have made these before and they were delicious and perfect looking, so I have yet to figure out where I went wrong, but I suspect it was in the caramel that gets mixed into the batter. Hmmmm. So, I'll figure out the problem there before I put that recipe up.

I got hubby to peel them out of their wrappers and dump them in a bowl, from where they were transferred to the freezer. I now have the perfect excuse to try my hand at cake balls. Yes, sad I know, hehehe....

And I've had a play around with my new cookie cutters, how cute are these little guys? They're on a bread and butter plate, if that gives you an idea of their size.


Hubby thinks these may go down well at a market and I think perhaps cake balls might too.

Lots of ideas floating round in my head...