With Billy's vanilla vanilla cupcakes with vanilla buttercream frosting...



This is quite a good recipe, but reading through the comments a few people managed to get it wrong. If you've ever made cupcakes you'll find the way the recipe is put together a little odd......so I used my own tried and true method instead.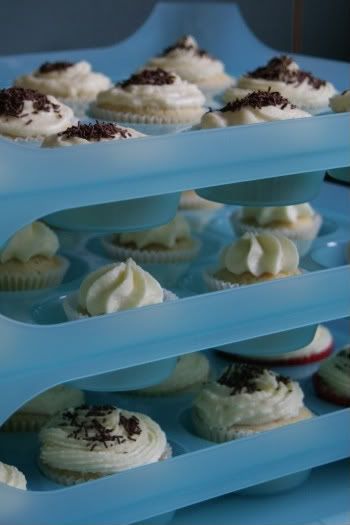 And tweaked the ingredients just a tiny bit too.
Yes, once again I cannot just blindly follow a recipe. However, apart from the fact my buttercream separated (my fault), they turned out admirably. So much so that I might put this on my master list of cupcake flavours.
Now in the interests of sharing good cupcakeness around, I'll put up my version of this recipe sometime over the next few days. Vanilla is a classic after all, and we should all be able to pull a great vanilla recipe out of our sleeve at short notice.
Right?

Oh and the cupcake courier works admirably, hubbby's taking them to work tomorrow in it.
And it has the added bonus of keeping small fingers out...