For some reason last Sunday I was feeling generous and decided to give my husband a sleep in morning. Now that's generous because Sunday is actually MY sleep in morning. So to keep the house quiet enough that he

could

actually sleep, I took the boys off to the local craft market that
is held on the second Sunday of every month
in the carpark of my local shopping arena.
Amongst the usual findings at this sort of market, I picked up this little piece for my eldest sister's birthday.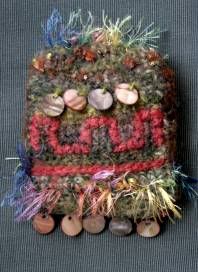 It's a little wee felted purse, with some fringing, beading and shell tags sewn on. I'm sure she'll enjoy it, being artsy crafty herself, and if not, one of her girls will swipe it, quick as a wink. There were some beautiful felted shoulder bags too, and I came across an elderly lady selling the sweetest knitted possum puppets. Unfortunately it was her last market, although I have her address for future orders, as I know they'll make lovely Christmas gifts come that time of year.

Gee, thinking about Christmas already...............oh well, no time like the present to start being organised!