I think I have finally found a really good chocolate cupcake recipe. I have tried quite a few but never found just the right mix of flavour, texture and perfect dome-ness....and
this recipe
has all three.

See? They're chocolaty....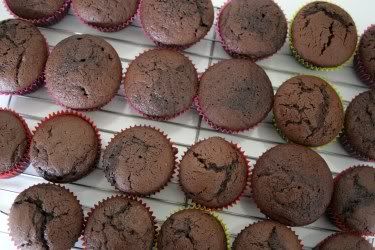 And perfectly domed.


Un-iced as yet, I'm thinking maybe some chocolate ganache will top them off nicely. They don't have any actual chocolate in them as they are flavoured with cocoa, so a rich topping will bring them to just the right level of gorgeous chocolate-ness.

Now, if you want to try the recipe out, may I suggest you add the sour cream into the wet mixture before you add the flour. (The recipe does not state when to add it.)

And a stick of butter is about 113.5 grams, so for 3 sticks of butter I used 340 grams.

Wednesday is my serious baking day because that is the day I have both boys in daycare, as a leftover from when I was working out of home.
It's my recharge day, my sanity day, the day that as much as I love my kiddies, I REALLY look forward to. The house is filled with silence. Things stay where I put them. I can pee in peace. I don't need to wipe noses and butts and break up fights. Or haul the baby up from sitting on his older brother. Again.
It's also my clean the house day and my 'important things that require concentration so no kids around' day.

The rest of the time my life is filled with this...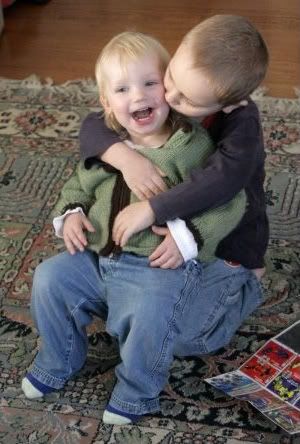 and this...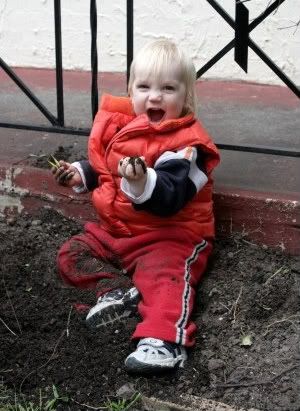 and quite a lot of this lately too...


And this, if the ladder is left anywhere accessible after fixing the sliding doors that have been slid too enthusiastically one too many times...


I'll stop there shall I?

They're always on the go, my little munchkins, and they wear mummy out. Especially after the all-nighters my lil guy has been pulling lately.....but that's another story.

Let just say, I REALLY LOOK FORWARD TO WEDNESDAYS!