Gee, I let hubby out into the back yard to shave his head.....he gives himself a no' 4 in the summer (I DO NOT cut his hair, scarred from the one and only time I DID do it...)

And this is what happens: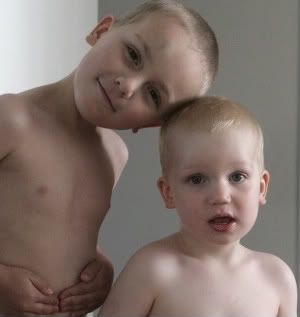 Ok, Mr 4 was due for his buzz cut, but my blonde fluffy haired baby!!! Check out his hair in my previous playdough post, (20 months old but still my baby...)

Oh my gosh, he does look cute, his sqidgy baby cheeks are showing up again, but still, hubby cut my baby's hair WITHOUT TELLING ME!

Oh well, easy for summer, right?

The above photo was taken just a short while after this one...


I thought 4 1/2 year olds didn't get eggs on their heads any more. Well, when they're spinning round in the kitchen and slam their head in to the corner of the cupboard, they still do.

Gee, it has been a busy, busy day, so nice to sit down in front of my pc and catch up with the world :)